There are many platforms available. Today, Facebook is the most popular with 1.1 billion estimated monthly unique visitors.(1)Other popular platforms are LinkedIn, Twitter, YouTube, Pinterest, and Instagram, to name a few. New social media sites and apps seem to pop up faster than you can say "rutabaga".Why Use Social Media?With each post you share and interact with, you:

• have potential to drive traffic to your website
• build brand recognition, trust and reputation
• create and build interactive relationships
• build online searchability and rank higher in search results organicallyApproximately three-quarters of shoppers today will research a company online before making a purchase. The place most people start is by doing a search on a search engine. When the results are displayed, and social media is an integrated part of your marketing and online presence, YOU rank higher in the results and will be found more easily.
Here's an example of first page results for one of our clients, Exceptional Horsemanship. The more engaged, the more you appear.When social media first came on the scene, many wondered if it would take the place of websites. Overtime results have shown that social media is an inadequate substitute for a professional website. However, when skillfully combined with your site, it's an effective tool to increase website traffic and customer engagement. And you know what that means, higher rankings on search engines and increased sales. The most effective way to do business online is to have a website and social media presence that work together to spread your message and foster relationships with your customer audience.Three Ways Social Media Compliments Your Website:1. Social media is how you share your website content, quickly and to a larger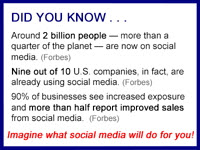 audience.Your website is your online home. Social media can't do what your website can. It limits the length, content, and types of media you can post. Plus, you must post under their format, template, and design. Your website is the place you set yourself apart, establish your brand and expertise, highlight your products/services, and educate/inform your clients through blog posts. Your website becomes a valued resource, giving people a reason to regularly visit. What you do on your website is limited only to your creativity. By combining the two you have a great online marketing presence.2. Through social media you encourage direct customer interaction and feedback that you then address on your website. Use social media as a way to capture the questions and issues of your customers. This provides an excellent opportunity to address those issues on your website. Not only is this a great way to formulate blog ideas, it also shows your customers that you care, and leads them to visit your website when you respond to their issues with an in-depth blog post.3. Successful integration creates easy ways for clients to share your website and information. Adding social sharing buttons to your site will drive more traffic, as well as provide an easy "click of the mouse" for others to share your content on their social media profiles. Marketing you don't have to lift a finger to do!What Your Website Does That Social Media Doesn't:• Builds your credibility - Consumers expect companies to have websites. They trust a business more if it has a website.

• Gives you full control - When you own your own website, you have many more choices about how it looks, the information it
provides, and the features it has.
• Better marketing - With your own website, you have more leeway to communicate with and sell to your customers. A website not only has more space to market your business; but you can include more marketing features such as videos, customer reviews, blogs and special promotional offers. Strengthen the health of your business and potential revenue. Social media is a critical component of creating a healthy, thriving business. And while we won't make you eat your vegetables, C2C Consulting has the knowledge and expertise to help you establish and maintain your social media presence, successfully integrating it with your custom website. Whether it's time to review your current social media plan, breathe new life into your existing profiles, or get started, we're here to guide you.
(1) http://www.ebizmba.com/articles/social-networking-websites